Review
Fun With Future Cartman
Name: Opoona
Genre: RPG
Platform: Wii


As of yet, the Wii has not been known as an ideal platform for turn-based RPGs. Other than Baroque and Paper Mario, there really haven't been too many standout role-playing games for the console. With Opoona, Koei is hoping to remedy that situation. With its mix of cutesy artistic style, charming original storyline, and old-school difficulty, Opoona fills the gap, but may leave many gamers looking for something a bit more familiar.
Opoona is a turn-based RPG set in a fictional future. You play as the titular Opoona, a bald child from space who looks like a futuristic Eric Cartman by way of Fisher Price. Like his sister Poleena and brother, Copoona (very original,) Opoona is a Tizian, meaning that he is silly looking, eternally happy, and possesses a Bonbon Crystal. Bonbons are colored balls that float above the heads of Tizians and aid them in combat. In fact, most of the combat you'll experience revolves around these Bonbons, and learning to control them is key to success.
Opoona is structured similarly to most traditional RPGs, with turn-based combat. Where it differs is in your attacks. The Bonbon Crystal is used to attack by pulling back on the nunchuk's analog stick. The longer you pull back, the harder the throw, and thus the longer the recharge time for the next throw. Simply holding straight back will work against early enemies, but soon you'll need to master curveballs and underhand pitches in order to defeat enemies who are vulnerable to only these types of attacks. In addition, the other characters who join your party each have their own uses for their Bonbons. Add in Bonbon-based special attacks and upgradeable Bonbon accessories, and you're looking at a surprisingly deep and challenging combat system, especially considering the game's childlike tone.
Opoona clocks in at about 20-30 hours, depending on skill level and how much attention one pays to side quests. During that time, you'll be treated to a relatively interesting, if poorly translated, story. Opoona and his family are on their way to a vacation to Landroll, a human colony planet, when their ship is attacked. By way of escape pod, the three siblings crash land on Landroll, where they are rescued by the good people there, and immediately conscripted into their military for some reason. From there, you'll learn more about Landroll, Humanity, the Tizians and even your own role in the galaxy while trying to reunite your family.
It's all very cute and fun, and never too serious or dark for kids to enjoy. The problem is that Koei, a Japanese company who has never exactly specialized in English translations, has done a downright terrible job here. Misspellings, grammatical missteps and syntax errors are rampant throughout the game. In most cases, it's an annoying cosmetic issue, but there are occasions where the poor translations affect the game itself. Some of the decisions you make during the game have lasting effects, and the poor localization makes it nearly impossible to know which option it is you're picking.
Visually, Opoona could easily be mistaken for a Gamecube title. Every character in the game has a cartoony, almost toylike look and feel to them, and while they're well designed, their poly counts and textures are disappointing. Some of the futuristic environments you find yourself in are far better looking, though, with tons of little details that add to the fun, whimsical feel of Landroll. It's a good thing, too, because the layout of the various corridors and elevtors is so confusing and labyrinthine, you'll be spending lots of time checking the environments out.
Hitoshi Sakimoto, composer for Final Fantasy XII, created the game's soundtrack, and it's just as epic and beautiful as you'd expect. It's a shame that the game's sound effects don't match up to the score's level of quality. Other than the Bonbon's distinctive ound, they're usually underwhelming, and occasionally nonexistent.
It may not be for everyone, but for fans of old-school RPGs, especially those who are sick of spiky-haired, angstful teenaged protagonists, it's well worth the $50 price tag. It may not offer the visuals of a Lost Odyssey, the epic scale of a Final Fantasy XII, or the nostalgic glee of a Dragon Warrior VII, but it's a solid RPG with some unique gameplay mechanics, and a prime candidate for a franchise.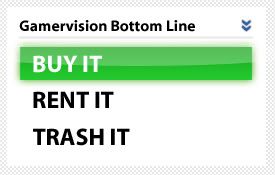 Related Articles:
Final Fantasy Crystal Chronicles: My Life as a King – Wiiware